Exclusive Ticket Offer at Bank of NH Pavilion
Special Ticket Access to the Eastern Concert Series at Bank of NH Pavilion in 2023
Exclusive Eastern Customer Reward! As our customer, you have exclusive access to tickets at the Bank of NH Pavilion in Gilford, NH for the 2023 Eastern Concert Series. Premium Tickets have been held for you to secure seats to all the best shows.
(Ticket Inventory Is Limited, While Supplies Last)
Click HERE to access our Eastern Propane & Oil Ticket Offer.
Instructions:
1. Use the link provided above.
2. Click which show you are interested in.
3. You will be redirected to a Live Nation page. You do NOT need a code to access. If you are prompted for a code, please check to make sure you are accessing the seats on the correct start date.
4. You will see this image pop-up. You are in the right place.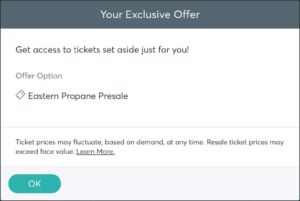 5. Select your desired seats. 4 seats max per customer.
6. Hit "Next" on the bottom right of the screen. Check out as normal. You do NOT need a promo code to finalize.

Terms & Conditions
Presale for entry to Eastern Propane & Oil Reserved Seats starts 24 hours before public on sale. Check the list of shows on this page to see when each offer starts and ends.
Offer will be available for 30 days after the start of the public on sale until 10PM.
This page will populate with new shows as they are announced, if you don't see the show you are looking for, the show's pre-sale opportunity has ended, or may not have started yet. Please see the chart of active shows to the right.
Offer for the Eastern Propane & Oil Reserved Seats are for all shows and valid to all current Eastern customers.
Select seats are available for each show in various price levels. Subject to availability. Seats available on a first-come-first-served basis. While Supplies Last.
No more than 4 seats are allowed per customer.
Questions?
Do I need a code to access these seats?
No, you do not need a code. Use the link above to access the tickets. There is no code required for entry to the tickets or to check out. If the site asks you for a code, please check the start date on the website HERE. You may be in too early to have access to the tickets.
What if I don't see any seats?
Most likely the inventory has sold out. This offer includes a selection of tickets for each show available for 30 days. There may be seats available for the show without this offer. You can click on the show on the main BankNHPavilion.com website to look for tickets.
Can I still buy tickets if the 30 days are up?
Yes, once the offer has exceeded 30 days, customers will have access to all remaining available seats to the public.
List of Shows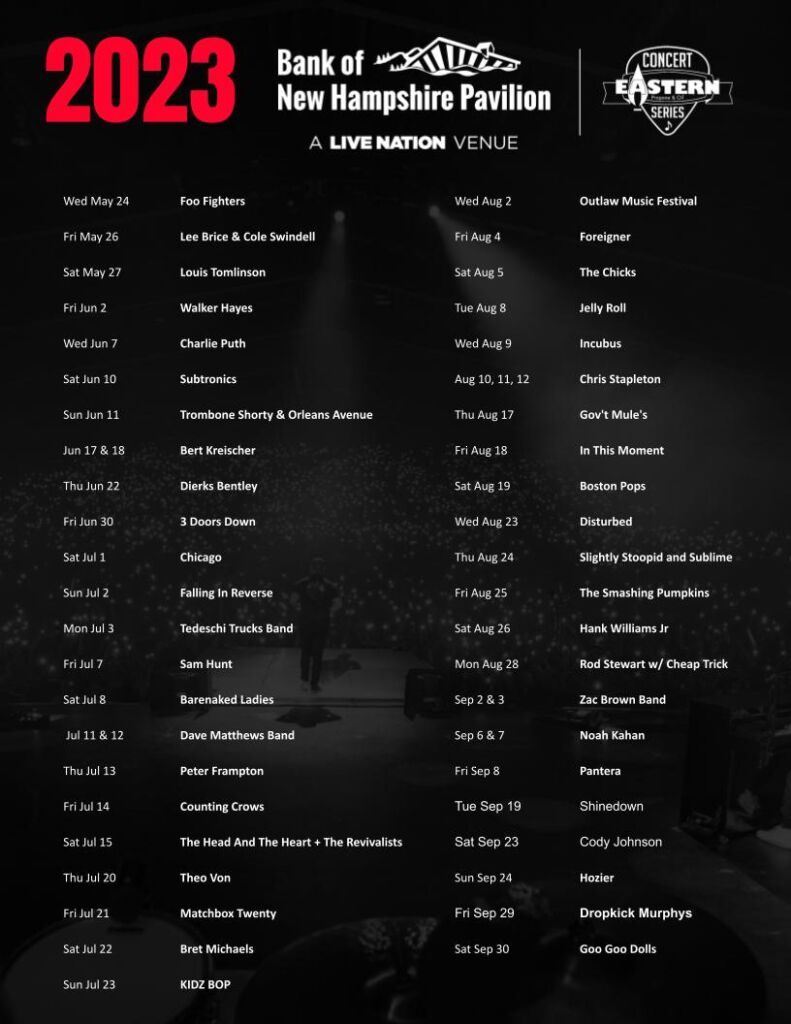 Choose Eastern
Choose Eastern and Join Our Family Today
As one of the largest family-owned and operated energy providers in New England, we are committed to being reliable, responsive, safe, and convenient to all our customers. We're in your neighborhood.