The Rebate Program is Live for 2023!
The Granite State Saves with Oil rebate is now available to New Hampshire residents! Rebates are available on a first-come, first-served basis until August 31st, 2023, or while funds last.
Rebate Program
How do you keep your New Hampshire home or business warm from season to season? Take advantage of the Granite State Saves with Oil rebate program to upgrade your existing oil heating system with new, high-efficiency equipment. There are so many benefits to choosing oil heat. Now is the time to upgrade! Rebates are funded by the National Oilheat Research Alliance through participating NH oil providers.
Receive $300 when you purchase a New Oil Boiler or Furnace and $200 when you purchase a New Oil Tank!
Earn Your Rebate
It's Easy as 1-2-3
Contact us to schedule your installation.
Complete your installation.
Once processed, you will receive your rebate and enjoy even more savings down the road.
Why Should I Replace My Heating Equipment?
This rebate program is a valuable opportunity to purchase new, high-efficiency oil heating equipment at a discount! For the right price, you can outfit your home or business with the latest oil heat technology and benefit from future savings for years to come.
Savings on annual heating costs
Extended equipment lifespan
Improved operating efficiency and safety
Lower emissions
Reduced risk of mid-season breakdowns
Increased home value
When is the right time to upgrade?
If your heating system is more than 15 years old you can save anywhere from 30% to 50% by upgrading to new, energy-efficient equipment. Make your money go the distance and schedule your installation now.
Call us now to schedule your upgrade 800-523-5237.
Want to learn more? Head to Granite State Saves With Oil for additional information.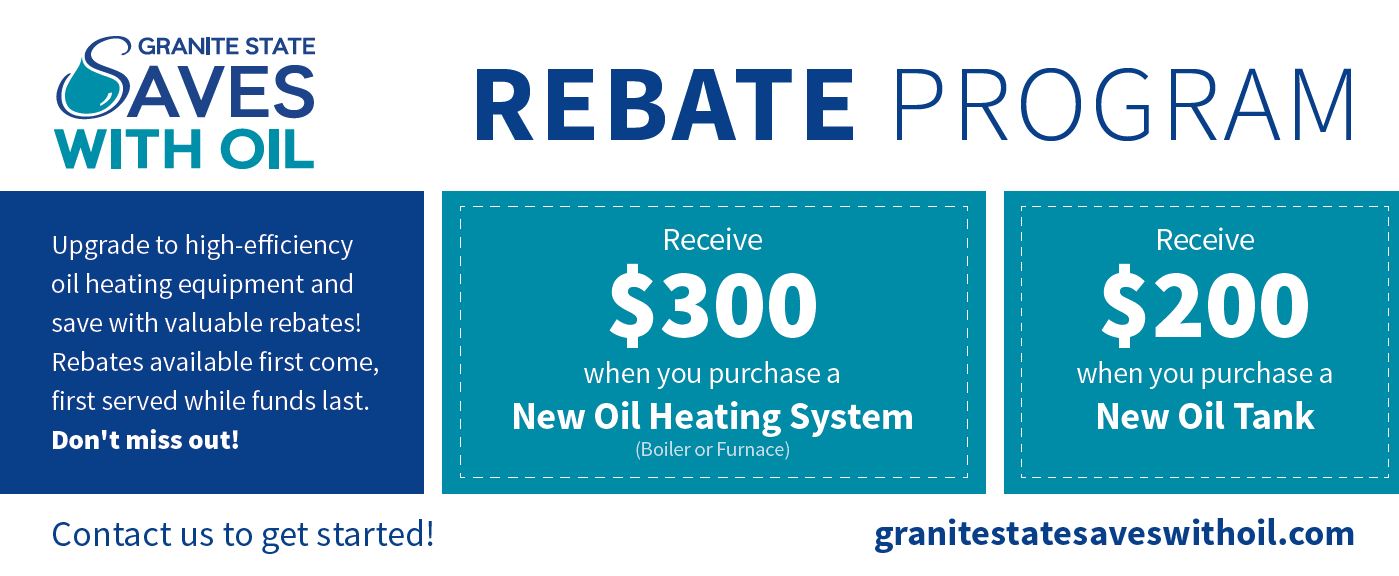 Choose Eastern
Choose Eastern and Join Our Family Today
As one of the largest family-owned and operated energy providers in New England, we are committed to being reliable, responsive, safe, and convenient to all our customers. We're in your neighborhood.